Product details
If you are checking laboratory spray dryer lpg-5 price, or looking for cheap high torque laboratory spray dryer lpg-5, mini drier, small drier, laboratory spray drier, laboratory scale spray dryer, lab dryer machine, lab drying machine, laboratory drying equipment, welcome to contact KODI Machinery, we are one of the leading China laboratory spray dryer lpg-5 manufacturers.
Quick Details
Condition: New
Type: Spray Drying Equipment
Place of Origin: Jiangsu, China (Mainland)
Brand Name: KODI
Model Number: LPG 5
Voltage: 220V - 450V
Power(W): 15kw
Dimension(L*W*H): 1.68x1.5x2.1
Weight: 600Kg
Certification: ISO9001,CE
Warranty: 1 year
After-sales Service Provided: Engineers available to service machinery overseas
Product name: LPG 5 Laboratory Scale Spray Drier Drying Equipment
Material: Stainless steel 304 and 316L
Use: Lab or pilot
Atomizer: Centrifugal atomizer
Heater: Electric heater
Water consumption: 0.1m3/h
Evaporation: 3~5Kg/h
Inlet operation temperature: 180-250 ℃
Outlet operation temperature: 90-110 ℃
Spare parts: supply the whole lifetime
Packaging & Delivery

| | |
| --- | --- |
| Packaging Details: | KODI LPG 5 laboratory spray dryer / laboratory spray drier / laboratory drying equipment is packing with plywood box or As customers' requirement |
| Delivery Detail: | 15days |
LPG 5 Laboratory Scale Spray Drier Drying Equipment
1, Laboratory spray dryer / laboratory spray drier / laboratory drying equipment
2, Low energy consumption and large handling capacity
3, Easy operation and control
Product Description
What is Laboratory
Laboratory is a facility that provides controlled conditions in which scientific or technological research, experiments, and measurement may be performed.
Laboratories used for scientific research take many forms because of the differing requirements of specialists in the various fields of science and engineering. A physics laboratory might contain aparticle accelerator or vacuum chamber, while a metallurgy laboratory could have apparatus for casting or refining metals or for testing their strength. A chemist or biologist might use a wet laboratory, while a psychologist's laboratory might be a room with one-way mirrors and hidden cameras in which to observe behavior. In some laboratories, such as those commonly used by computer scientists, computers (sometimes supercomputers) are used for either simulations or the analysis of data collected elsewhere. Scientists in other fields will use still other types of laboratories.Engineers use laboratories as well to design, build, and test technological devices.
LPG 5 Laboratory Spray Dryer Description
LPG 5 laboratory spray dryer is a wide applied process in liquid process shaping and drying industry. Particularly it is suitable for producing powder, granule or block solid product from solution, emulsion, suspending liquid and pumped paste liquid. Therefore when the distribution of granule size, final moisture, bulk density, granule shape of finished product must be conformed to accuracy standard, the spray drying is an ideal process.
Application of LPG 5 Laboratory Drying Equipment
LPG 5 laboratory drying equipment is widely used in foodstuff, pharmaceutical and chemical industry, such as egg powder, amino acid product, protein, blood, food flavor, food ingredients, pectin, carrageenan, spirulina, herbal extraction, pigment, cocoa, mushroom, PAC, malt dextrin, collagen, juice, yeast, Coffee, Creamer, coconut, milk, gelatin, gum and acacia etc.
Laboratory Spray Drier Working Principle
After filtering and heating, the hot fresh air enter into the air distributor at the top of drying chamber, distributed in spiral way uniformly from up to down. At the same time, the feeding liquid is pumped to the top atomizer, then be sprayed to extremely fine mist liquid drop. Through the short time of direct contact with hot air, the moisture evaporated at once, the solid remains to be powder. The dry powder will be discharged continuously from the bottom of drying tower and cyclone collector, the exhaust air will be discharged after cleaning.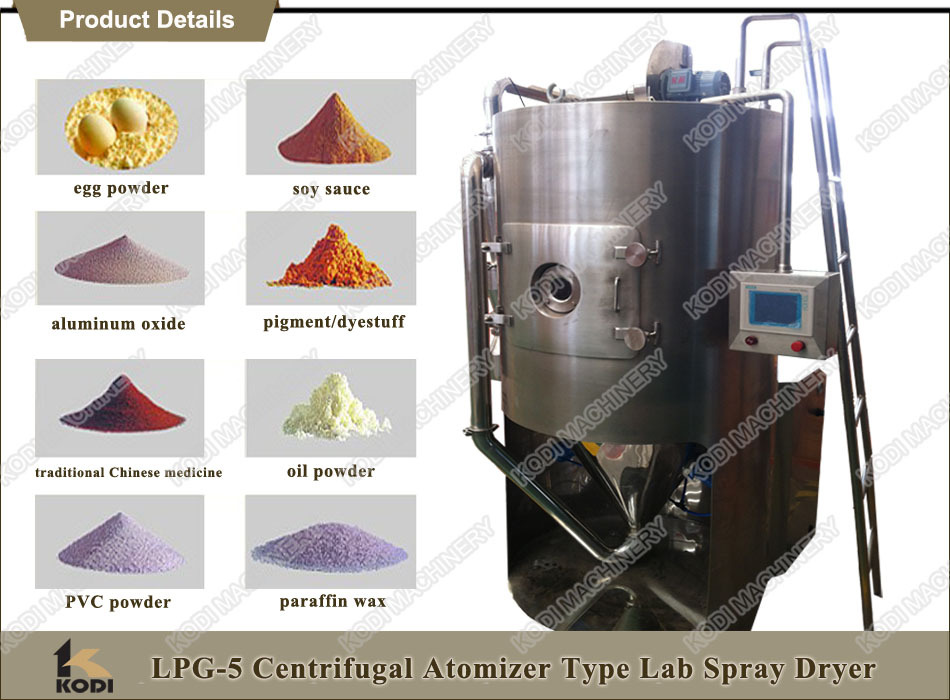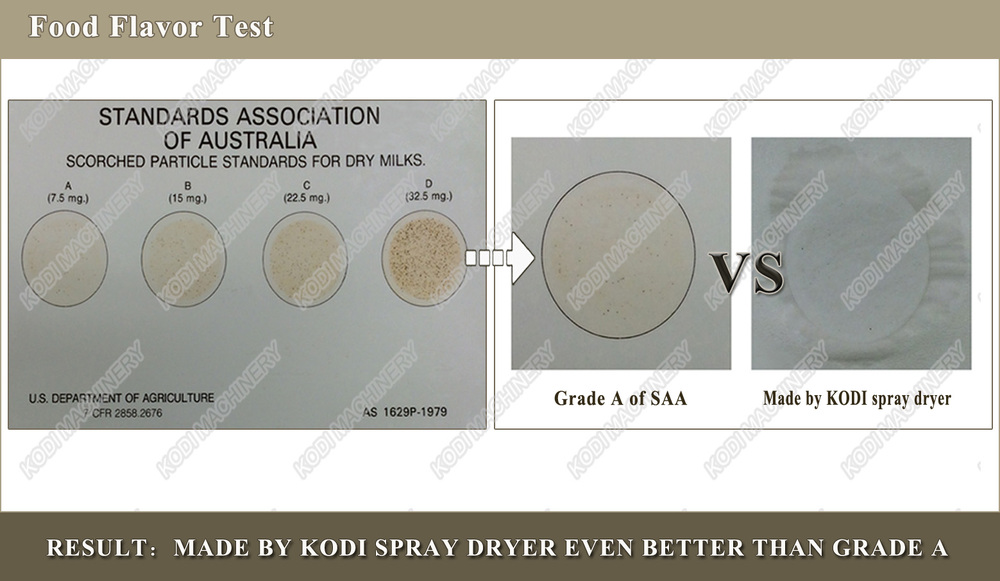 LPG 5 Laboratory Spray Dryer Technical Data
Evaporation

3~5Kg/h

Dia/Height

1.0M/2.2M

Operation temperature

Inlet 180℃

Outlet 90℃

Atomizer

Dia 50mm

Compressed air driving

Power

Drive:0.75KW

Water consumption

0.1m3/h

Heater:12KW








Type

Open circle

Feeder

peristaltic pump

Air contact

Co-current

Heater

Electric heater

Collection

Cyclone

Atomizer

Centrifugal atomizer

Overall size

1.68x1.5x2.1

Weight

About 500Kg

Packing

Plywood box

Power

3Ph, 220-415V, 50/60Hz
 Parameters of KODI Laboratory Drying Equipment
No.

Item

Model

Qty

Material

Notes

Feeding system

1

peristaltic pump

BT-100

1set

Sanitary

0.3Kw

2

Feeding pipe




1set

SUS304




Circulation system

1

Suction blower

9-19

1set

SUS304

0.75KW

2

Air valve




1set

SUS304




3

Hot air pipe




1set

SUS304




4

Air out pipe




1set

SUS304




5

Pipe fittings




1set

SUS304




Air system

1

Air filter




1set

SUS304

Initial and middle

2

Air heater

12Kw

1set

SUS304




3

Pipe fitting




1set

SUS304




4

Hot air pipe




1set

SUS304

Insulation

Main machine

1

Drying chamber

D1000H2200

1set

SUS304




2

Air distributor




1set

SUS304




3

Air cover




1set

SUS304




4

Atomizer

LPG5/Dia 50mm

1set

SUS304

Air driven

5

Light

100W

1set






6

Manhole




1set

SUS304




7

Insulation






Glass fiber




8

Hammer

SK40

2sets

Aluminum




Powder collection system

1

Cyclone

XF170

1set

SUS304




2

Discharge valve




1set

SUS304




3

Product jar




1set

SUS304




4

Air pipe

Quick opening

1set

SUS304




Control system

1

Control box




1set

SUS304




2

PLC

SIEMENS

1set






3

Touch screen

SIEMENS

1set






4

Contactor

SIEMENS

1set





Successful Experience Overseas of KODI LPG 5 Laboratory Spray Drier
 Packaging & Shipping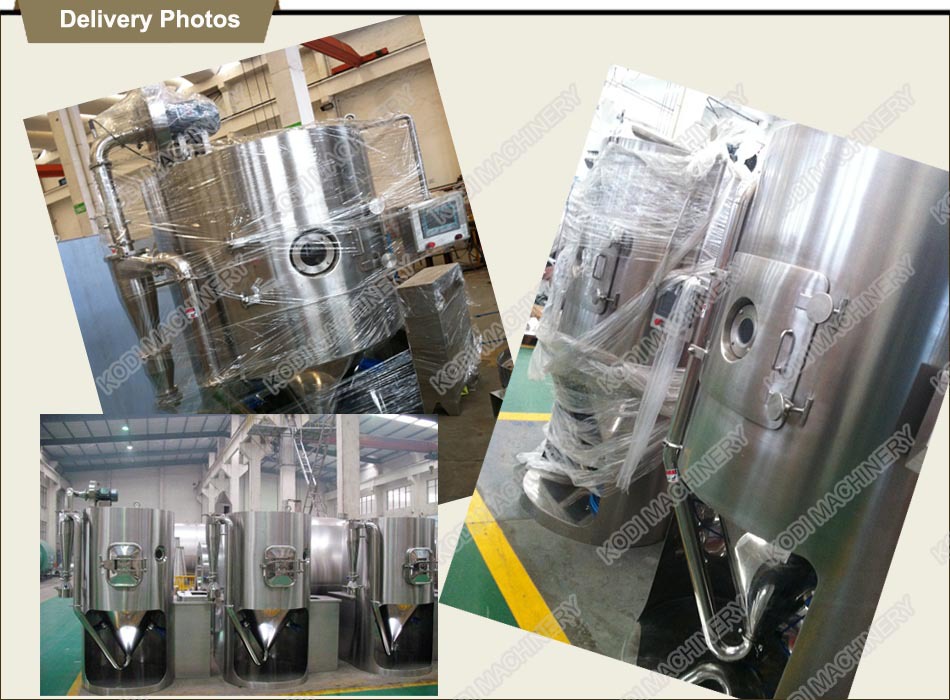 http://www.chinaspraydryer.com/